Yoomp! 64
A downloadable Commodore 64 game for Windows, macOS, and Linux
A Three-Dimensional jumping game for the Commodore 64!
YOOMP! 64 is a Commodore 64 port of the classic Atari XE/XL indie arcade game Yoomp! Developed by Zbigniew Ross and featuring an original soundtrack by Michał 'MCH' Brzeski, bounce the ball through 23 three-dimensional textured tubes, collect as many points as you can and try not to fall off the edge!
Note that YOOMP! 64 is a PAL ONLY game. It will NOT run on NTSC Commodore 64 systems.

---
YOOMP! 64 features:
23 levels of three-dimensional, fast-paced, rhythmic arcade action!
Innovative texture-mapping system!
Over a dozen bonus and hazard tile types to hit or avoid!
Password system to play previously unlocked levels!
An awesome SID soundtrack by MCH!
SD2IEC compatible loader!
Compatible with THEC64 Mini(!)
For further information on the game, please check the press kit.
---
Playing YOOMP! 64 on Windows, Mac or Linux

Please note that the downloadable Commodore 64 version available here is primarily for use with emulators, but can also be run on a real C64 via hardware such as the 1541 Ultimate II, Turbo Chameleon or SD2IEC device. The game also runs on The C64 Mini!
For emulator users, we recommend VICE, as it works on a variety of operating systems and is very user friendly. In fact, we've even included a pre-configured Windows, Mac and Linux version of the emulator with the download as well as some simple user instructions (we're nice like that).
---
Buy YOOMP! 64 on Cartridge/Disk for your Commodore 64 Computer!
Enjoyed YOOMP! 64 on your modern-day PC? Have an old Commodore 64 stashed away in the loft? Well, you'd be a fool not to grab a physical copy of the C64 version - it comes boxed with a vinyl sticker, an A3 poster, full-colour manual and even a postcard, just like in the good old days!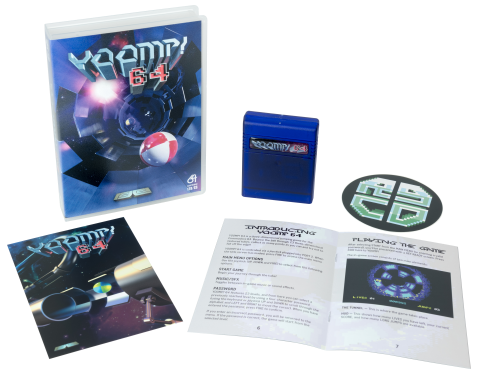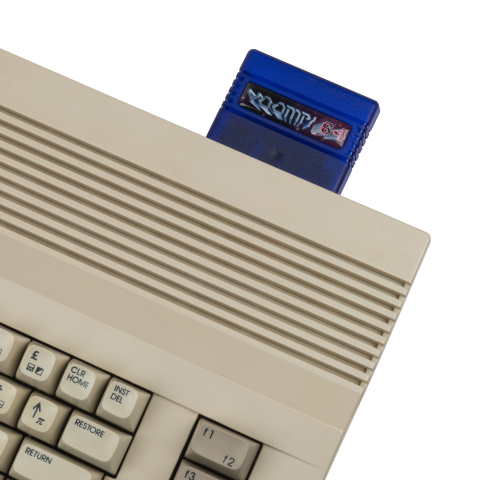 Head on over to our online store to order your copy today :)
YOOMP! 64 is also available to order on 5.25" diskette from our comrades at Psytronik Software.

Download
Click download now to get access to the following files:
Yoomp! 64 (C64 Binaries and VICE)
42 MB
Yoomp! 64 (C64 Binaries Only)
1 MB