Trance Sector Ultimate
A downloadable Commodore 64 game for Windows, macOS, and Linux
Signals from a distant, unnamed planet have been intercepted by the Earth Defence Force. These have revealed details of an intergalactic threat from a race that call themselves the Cygma Elite. An EDF strike team was immediately mobilised and sent to explore the planet to find out more about the alien threat. The team discovered that the Cygma Elite have built a series of weapons factories that are producing nuclear pods. These deadly pods have been stored in a huge 32 level facility known as the TRANCE SECTOR.
Reports from our team indicate that the Cygma Elite are planning to use the hundreds of pods stored within the TRANCE SECTOR to create an Armageddon Bomb - a devastating device that poses a threat not only to Earth, but our entire Solar System!
Your mission: Enter the TRANCE SECTOR and disable the nuclear pods on each of the 32 levels, causing a cascade reaction that will destroy the facility and the Cygma Elite homeworld - before they destroy US!
---
This special version of TRANCE SECTOR is a collaborative project between The New Dimension, RGCD, Psytronik and Kiken Corporation. The game includes both the 32 standard levels from the Psytronik commercial release together with the 32 levels from the special 'Challenge/Competition Edition'. TRANCE SECTOR ULTIMATE also features a completely new set of graphics and a remixed soundtrack.
This version of the game was created for release at the 2015 Gubbdata demoparty organised by Genesis Project, and is available for free download and for purchase as a limited edition collector's cartridge.
TRANCE SECTOR ULTIMATE features:
A total of 64 levels to beat (32 in each level set)!
All new, redesigned front end and intro sequence!
Full PAL/NTSC and GS compatibility!
Remixed SID soundtrack!
A hidden Easter Egg game!
---
Playing TRANCE SECTOR ULTIMATE on a Commodore 64 or PC
The digital version available here is primarily for use with emulators, but can also be run on a real C64 via hardware such as the 1541 Ultimate II or Turbo Chameleon.
For emulator users, we recommend VICE, as it works on a variety of operating systems and is very user friendly. In fact, we've even included a pre-configured Windows, Mac and Linux version of the emulator with the download as well as some simple user instructions (we're nice like that).
---
Buy TRANCE SECTOR ULTIMATE on Cartridge for your Commodore 64 Computer!
Enjoyed playing TRANCE SECTOR ULTIMATE via emulation? Have an old Commodore 64 stashed away in the loft? Well, you'd be a fool not to grab a mega-collectable physical copy! The TRANCE SECTOR ULTIMATE game cartridge is strictly limited to 50 individually numbered copies, and each comes boxed with a 12-page manual, an A3 poster illustrated by Akira of Kiken Corporation/Genesis Project and a pair of groovy RGCD/TSU vinyl stickers.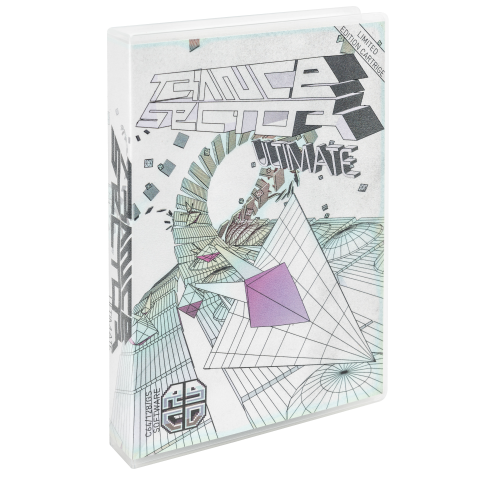 Head on over to our online store to order your copy today (SOLD OUT)
---
The digital download of TRANCE SECTOR ULTIMATE is available for FREE, but if you can afford to support us by throwing us some digital loose change then we'll be incredibly grateful. <3
Download
Click download now to get access to the following files:
Trance Sector Ultimate (C64 Binaries and VICE)
41 MB
Trance Sector Ultimate (C64 Binaries Only)
110 kB