Tiger Claw
A downloadable C64 / Amiga game for Windows, macOS, and Linux
Help TIGER CLAW kick and punch his way through 24 screens of martial-arts mayhem to retrieve the four mystic scrolls before Fire Fist, Thunder Chain and Angry Tongue can reveal their true potential!
Fortunately, Master Lee has transferred some of the mystic scrolls' power into four masks of endurance before they were stolen. Find these masks and use them wisely. As Confucius said: "He that would perfect his work must first sharpen his tools!"
TIGER CLAW is a relentless beat 'em up game developed by Lazycow and Saul Cross. Originally released exclusively on Commodore 64 cartridge by RGCD for backers of the C64 in Pixels Kickstarter (Fusion Retro Books, 2016), then ported to Windows, MacOS, Linux and the Commodore Amiga in 2018!

---
TIGER CLAW was initially released as an entry in the 2014 RGCD 16K C64 Game Development Competition (where it placed 2nd out of 17 entries). Taking player feedback into consideration, the game was both further expanded and refined for the 64KB final, including the addition of extra rooms, foes and features, an arcade-style training mode and a 2-4 player deathmatch arena!
In December 2018, a new version of TIGER CLAW was made available for Windows, MacOS, Linux and the Commodore Amiga (1MB RAM), both in digital format and as a physical release.
Kill your friends in deadly 2-4 player versus battles!
Smash your way through the arcade-style training mode!
Collect ancient masks to gain new powers!
Slay dozens of enemy foot soldiers, deadly ninjas, fearsome daemons, rabid hounds and birds of prey!
'Classic' mode with chunky C64 graphics!
Full NTSC/PAL support (both on Commodore 64 and Amiga)!
Visit Lazycow's web site for full details on the game!
---
Buy the game on CD and 3.5" Floppy for your Commodore Amiga Computer!

Enjoyed TIGER CLAW on your modern-day PC? Have an old Commodore 64 or Amiga stashed away in the loft? Well, you'd be a fool not to grab a physical copy of the game - it comes on CD and disk, boxed with a professionally printed manual, poster, map, little vinyl stickers, badges and everything, just like in the good old days! Hell, we've even thrown in a shuriken for you to practice your real-life ninja skills!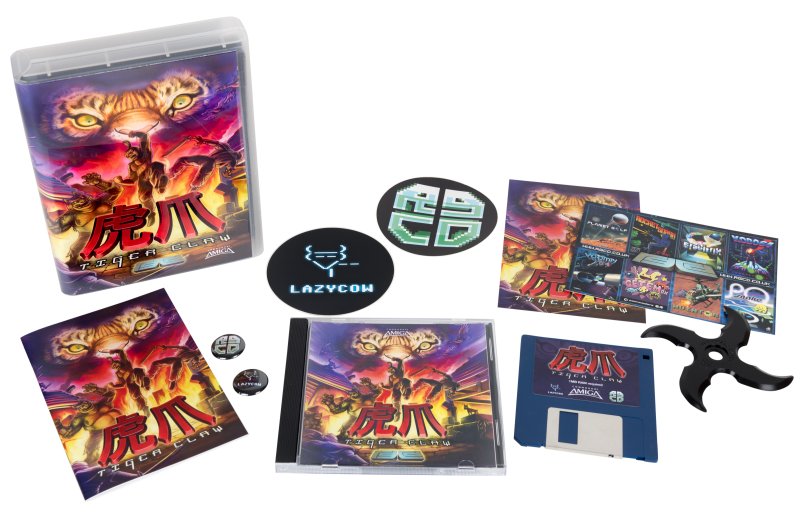 Head on over to our online store to order your copy today :)

---
Please note that the downloadable Commodore 64 version available here is primarily for use with emulators, but can also be run on a real C64 via hardware such as the 1541 Ultimate II or Turbo Chameleon. For emulator users, we recommend VICE, as it works on a variety of operating systems and is very user friendly. In fact, we've even included a pre-configured Windows, Mac and Linux version of the emulator with the download as well as some simple user instructions (we're nice like that).
For legal reasons, we are unable to distribute an Amiga emulator and necessary OS ROM files, but we recommend UAE (and for those of you who want stress free set-up, the commercial Amiga Forever project).
The Windows, Linux, Mac OSX and Commodore 64 versions of TIGER CLAW are ALL available for FREE, whereas the Amiga version of the game is available for download if you pay $2.99 or above.
Download
Click download now to get access to the following files:
Tiger Claw (Windows Version)
22 MB
Tiger Claw (Linux Version)
22 MB
Tiger Claw (Mac OSX Version)
22 MB
Tiger Claw (C64 Binaries and VICE)
52 MB
Tiger Claw (C64 Binaries Only)
11 MB
Tiger Claw (Amiga .ADF/.LHA/.DMS/.ISO)
9 MB
if you pay $2.99 USD or more