LuftrauserZ
A downloadable Commodore 64 game for Windows, macOS, and Linux
The skies will be set aflame and the seas will overflow with wreckage in Vlambeer's stylish arcade shooter LUFTRAUSERZ! Select from over 125 combinations of weapons, bodies, and propulsion systems and take to the skies to battle enemy fighter planes, battleships, and rival aces for glory, honour, and high scores. Bravely volunteer for one of over 60 daring missions to unlock new Rauser combinations and become the most legendary Rauser pilot of all time!
LUFTRAUSERZ is an official conversion of the 2014 indie classic LUFTRAUSERS for the C64 computer, developed by Commodore enthusiast Paul Koller and published on cartridge by Vlambeer and RGCD.
Exclusive to C64 cartridge, LUFTRAUSERZ drop-kicks your Commodore 64 into the 21st century with its hyper-aggressive, arcade-style gameplay, fluid 50FPS 8-way scrolling and endless waves of enemy fighters to blast out of the sepia-coloured skies!

Note that LUFTRAUSERZ is a PAL ONLY game. It will NOT run on NTSC Commodore 64 systems.

---
LUFTRAUSERZ features:
Four THOUSAND unique player sprite frames stored in ROM (a C64 world record?!)
Endless waves of enemies and MEGA HUGE BLIMPS to destroy!
Smooth as silk 8-way scrolling, 50FPS arcade action!
Automatic score loading/saving to internal flash memory! (Physical cartridge version only)
Unlockable cutscenes and full game statistics!
Multiple heavyweight SID tracks by Stein Pedersen!
For further information on the game, please check the press kit.
---
Playing LUFTRAUSERZ on Windows, Mac or Linux
Please note that the downloadable Commodore 64 version available here is primarily for use with emulators, but can also be run on a real C64 via hardware such as the 1541 Ultimate II or Turbo Chameleon. For emulator users, we recommend VICE, as it works on a variety of operating systems and is very user friendly. In fact, we've even included a pre-configured Windows, Mac and Linux version of the emulator with the download as well as some simple user instructions (we're nice like that).
---
Buy LUFTRAUSERZ on Cartridge for your Commodore 64 Computer!
Enjoyed LUFTRAUSERZ on your modern-day PC? Have an old Commodore 64 stashed away in the loft? Well, you'd be a fool not to grab a physical copy of the C64 version - it comes boxed with a manual, poster, pin button, stickers and even a postcard, just like in the good old days!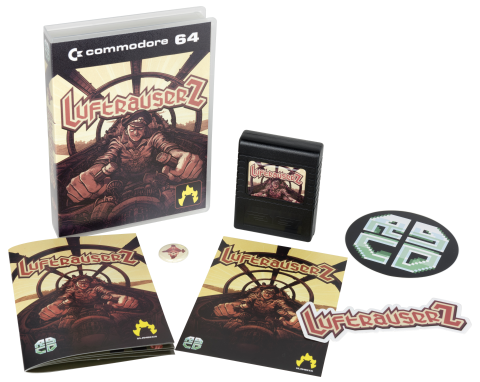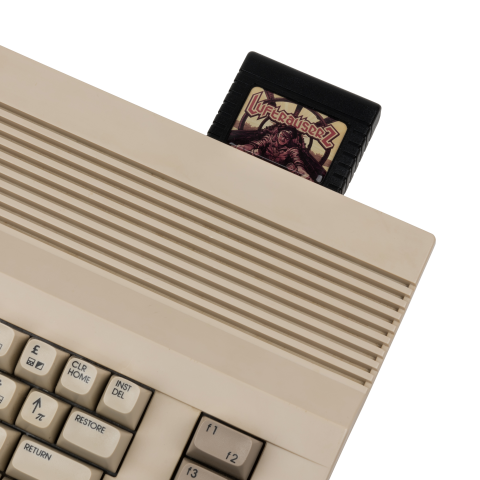 Head on over to our online store to order your copy today :)

Download
Click download now to get access to the following files:
LuftrauserZ (C64 Binaries and VICE) (PAL).zip
45 MB
LuftrauserZ (C64 Binaries Only) (PAL)
3 MB