Gravitrix
A downloadable Commodore 64 Game for Windows, macOS, and Linux
An updated rework of an unreleased game that Nils Hammerich originally completed over 20 years ago, GRAVITRIX brings arcade-style, mind-bending puzzle-action to your Commodore 64 like never seen before!
Combine stones of four different gravity directions to solve each of the 120 levels across six themed worlds, but be wary of colour changers, conveyor belts, teleporters and other hazards!
---
To complete each level, you must clear the screen of all of the coloured GRAVITRIX stones. ALL of the stones of EACH colour must be connected in a single 'group' in order for them to vanish, ie. you cannot have multiple, unconnected groups of the same colour in different areas of the screen. The big challenge in GRAVITRIX is that the stones don't just have different colours - they have different 'directions' (or gravity) as well!
Each coloured stone 'falls' in its assigned direction (symbolised by an arrow) whenever there is nothing blocking its path, and this leads to some tricky chain reactions that must be solved. To make your life even harder there is also a time limit, environmental blocks and other gameplay elements that are introduced during the early levels.
GRAVITRIX features:

Hours of puzzle-solving action!
Two 5.25" floppy disks worth of artwork and music!
Password save system!
Super-fast loading (512KB cartridge version only)!
Full NTSC/PAL support!
For further information on the game, please check the press kit.
---
Buy GRAVITRIX on Cartridge for your Commodore 64 Computer!
Enjoyed GRAVITRIX on your modern-day PC? Have an old Commodore 64 stashed away in the loft? Well, you'd be a fool not to grab a physical copy of the C64 version - it comes boxed with a poster, codesheets, little vinyl stickers and everything, just like in the good old days!
(This initial run is limited to 50 individually numbered copies. Further batches will only be produced if there is sufficient demand).

Head on over to our online store to order your copy today :)
GRAVITRIX is also available to order on 5.25" diskette from our comrades at Psytronik Software via their Binary Zone store.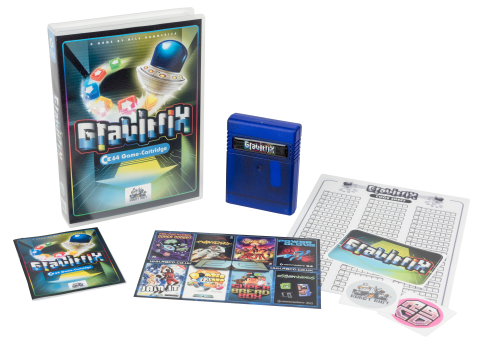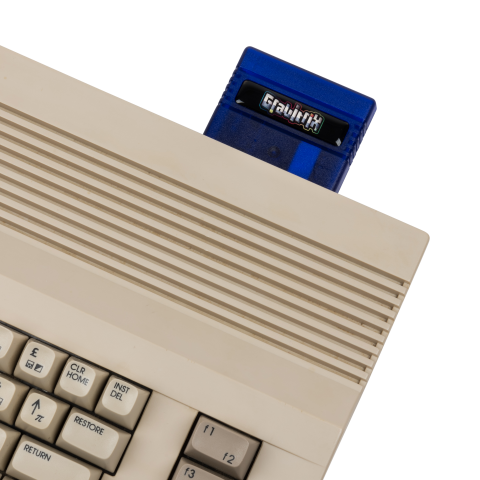 ---
Please note that the downloadable Commodore 64 version available here is primarily for use with emulators, but can also be run on a real C64 via hardware such as the 1541 Ultimate II. For emulator users, we recommend VICE, as it works on a variety of operating systems and is very user friendly. In fact, we've even included a pre-configured 32-Bit Windows copy with the download together with some simple user instructions (we're nice like that).
A 10-level demo is available to download for free, whereas the full version of GRAVITRIX is available for download if you pay $2.99.

Purchase
In order to download this Commodore 64 Game you must purchase it at or above the minimum price of $2.99 USD. You will get access to the following files:
Gravitrix (C64 Binaries Only)
2 MB
Gravitrix (C64 Binaries and VICE)
43 MB
Download demo