Get 'Em DX
A downloadable Commodore 64 game for Windows, macOS, and Linux
Poor Getty and Emma may well have been captured by the grumpy old troll King and locked away in the Nyarlu dungeons of infinity, but they weren't overly concerned. Regardless of their plight, the two happy critters cheerily snapped the neck of their prison guard while he slept and prepared for another daring escape. This wasn't the first time they'd thwarted the King's efforts - and it certainly wouldn't be the last...

...Having said that though, these dungeons were unlike any hell-hole the King had cast the duo into previously. Every floor of the neon-walled catacombs was radically different in layout, and what were these odd pulsating crosses lining the corridor floors? Whatever they were for, they certainly tasted nice! And wasn't it convenient that after scoffing them all a key and exit would appear leading to another dungeon? Wizard!

Grabbing a crossbow each from a fallen troll, Getty and Emma skipped happily down the halls, filling their tummies with crosses and chirruping merrily as they let forth salvo after salvo of deadly bolts into the thick hides of their captors. Full of the spirit of adventure, the two friends felt super-positive about their chances - and even if they didn't make it out, nothing would stop them from having fun trying!
---
Developed for the Commodore 64 home computer by Georg Rottensteiner, Sean Connolly and Ilija Melentijević, GET EM DX is a one or two player (co-operative) maze-based arcade game. It's a bit like Pac-Man, but with procedurally generated levels and more shooting.
The goal on each level is to eat all the crosses, then grab the key that appears and head for the exit door. However, there's also a motley bunch of nasty characters who'll try their best to kill you, block your path and otherwise hinder your progress. In fact, they'll even run off with the exit key if you don't collect it first!

GET EM DX features:

Endless, procedurally generated, super-hard arcade gameplay!
8 different power-ups, 5 different enemy types and three difficulty levels!
Single and multiplayer modes!
Epic eight-bit cuteness squeezed into 16KB!
---
Playing GET EM DX on a Commodore 64 or PC

The digital version available here includes both the original 16KB cartridge ROM and an executable .PRG. These are primarily for use with emulators, but can also be run on a real C64 via hardware such as the 1541 Ultimate II. For emulator users, we recommend VICE, as it works on a variety of operating systems and is very user friendly. In fact, we've even included a pre-configured 32-Bit Windows copy with the download together with some simple user instructions (we're nice like that).
---
Buy GET EM DX on Cartridge for your Commodore 64 Computer!
Enjoyed playing GET EM DX via emulation? Have an old Commodore 64 stashed away in the loft? Well, you'd be a fool not to grab a mega-collectable physical copy! So head on over to our online store to order yours today :)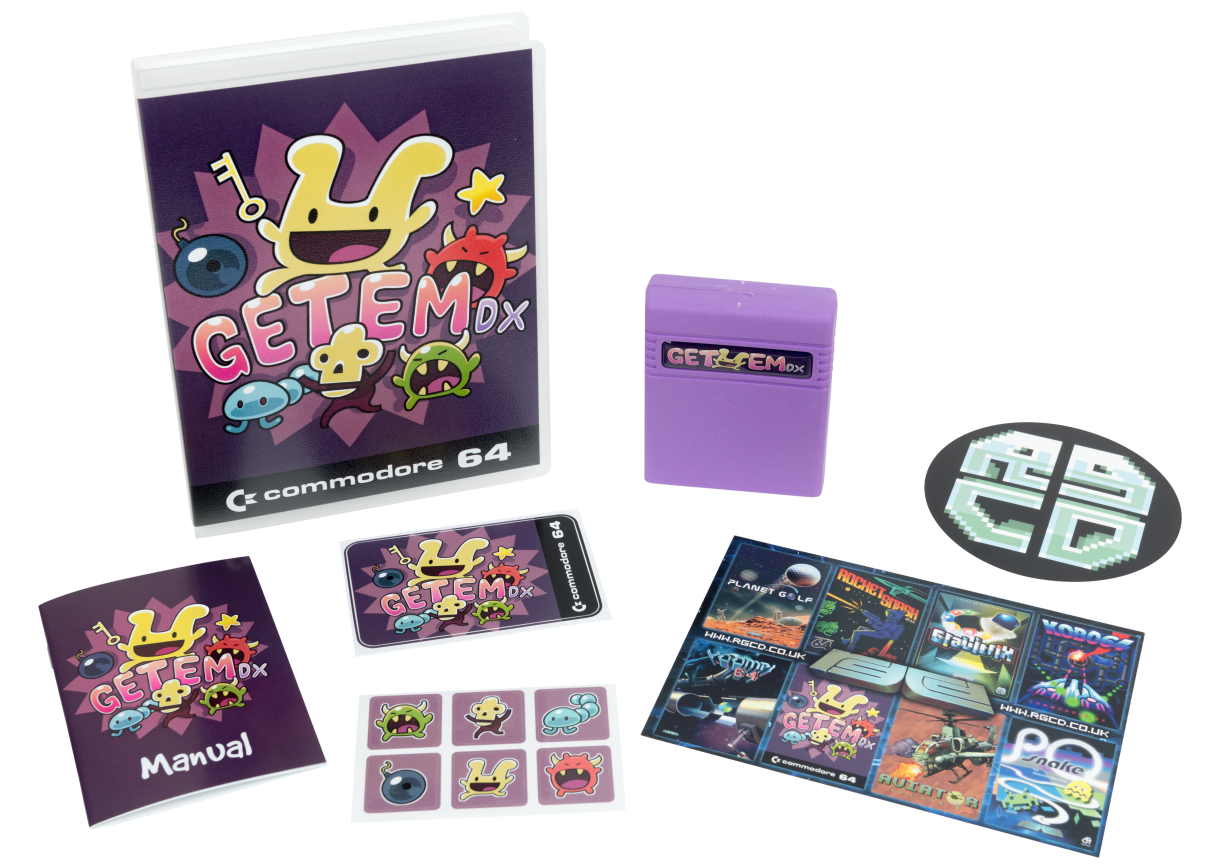 GET EM DX is also available to order in both 5.25" diskette and cassette tape format from our comrades at Psytronik Software.
---
Did you know?
Get 'Em was originally developed as a competition entry for the first RGCD C64 16KB Cartridge Game Development Competition in 2011. This updated version was later entered in round two (2012) as GET EM DX!

Get 'Em and GET EM DX were both inspired by Nyarlu Labs' iOS, PC and Mac game Forget Me Not. It's an excellent game that you should certainly check out if you enjoy GET EM DX. Massive thanks go to Brandon Williamson for granting us permission to blatantly copy his intellectual property! :)
---
The digital download of GET EM DX is available for FREE, but if you can afford to support us by throwing us some digital loose change then we'll be incredibly grateful. <3

Download
Click download now to get access to the following files:
Get Em DX (C64 Binaries and VICE)
41 MB
Get Em DX (C64 Binaries ONLY)
337 kB