Pan-Dimensional Conga Combat
A downloadable game for Windows
Developed in a top secret lab over the course of the past eighteen months, RGCD.DEV's Pan-Dimensional Conga Combat is a rhythm-synchronised, old-school, score-chasing arcade game that plays like some alien coin-op from another dimension. Grab your Conganoid and join the Elder Gods in the competitive ceremonial slaughter of annoyingly happy (yet extremely deadly) geometric, pan-dimensional critters!
Conga Combat is not a typical arena-shooter. Defend yourself against the pan-dimensional critters using your bullet tail, close enemy portals by looping around them and charge up your hyper-destructive mega-lazor by laying a path of bullets in front of the mindless, drifting purploids. Oh, and stay the hell out of the way of the EVIL X - those dudes are BAD news!
Combining trippy visual effects and coffee-break sized bytes of hardcore action, Conga Combat can be played solo in either arcade or survival mode. Arcade plays like a typical coin-op, with the player starting from the beginning each game, jumping from dimension to dimension by achieving the ever-growing kill-quota on each stage. Alternatively, the 'pure' survival mode sees the player facing an endless horde of increasingly aggressive geometric critters in a single arena for as long as they can.
Got some people over for a gaming session? We've got you covered with our old-school, timed local-multiplayer mode where you can battle your against your friends and family for high-score supremacy!

Conga Combat features:
Rhythm-synchronized arcade action!
Eye-popping visual effects!
Fast-paced play sessions that are perfect for that coffee-break adrenaline blast!
Two different single-player modes from which you can unlock the game's four dimensions!
Local multiplayer high-score battle mode for up to four players!
Four-track Renoise OST of heavy-weight acid/chip/funk breaks composed by Ilija 'iLKke' Melentijevic!
A playable tutorial to explain those non-obvious alien game mechanics in full!

Xbox 360 controller support (in addition to cursors, z/y and x)!
Artwork by Folmer Kelly (Wrassling, Battle Golf, Hot Tin Roof) and music and additional pixels from Ilija 'iLKke' Melentijevic (One More Line/Dash, OTTTD, Cat Astro Phi). Developed using GameMaker: Studio, with GML wizardry by Jamie Howard and James Monkman at RGCD.
---
Minimum System Requirements (Windows):
Windows 7 (or above)
1.65 GHz Dual Core Processor (or better)
2GB RAM
AMD Radeon HD 6320 / NVIDIA GeForce GT 520 (or better)
Up to date installation of DirectX
Note: the above specs are based on the oldest/worst machines that we have available that the game still runs at 60FPS+ on. As a more simple reference, it runs at full frame rate on a Dell Inspiron M5040 laptop that I bought back in 2012 for around £300.
---
Please note that Conga will be available on Steam in February 2018!

Conga was a game designed for competitive score chasing, and we've been working on a Steam port so that we can use their online leaderboards. Once complete and uploaded, everyone who purchased the game here will also receive a Steam key.
Purchase
In order to download this game you must purchase it at or above the minimum price of $4.99 USD. Your purchase comes with a Steam key. You will get access to the following files:
Pan-Dimensional Conga Combat (Windows Version)
87 MB
Exclusive content
Support this game at or above a special price point to receive something exclusive.
A2 Pan-Dimensional Conga Combat / r0x Poster Set
Pay $9.99 or above to receive a limited set of two 170gsm, matte-finish A2 sized posters complete with free worldwide shipping in a reinforced tube :)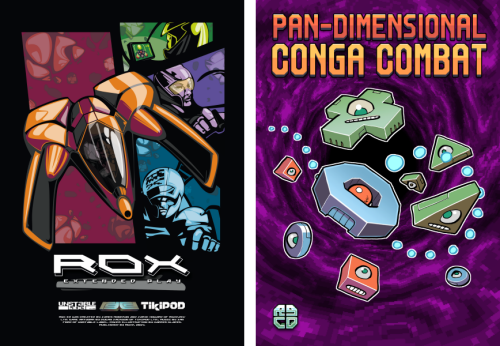 Download demo