C-2048
A downloadable Commodore 64 game for Windows, macOS, and Linux
Join the numbers and get to the 2048 tile! P1X3L.NET and RGCD are proud to present C-2048, the super-addictive colliding-numbers game for your Commodore 64 home computer!
Slide the tiles around the board and collide identical numbers in order to climb up the power-of-two series until you achieve 2048. Each turn a new '2' or '4' stone will appear on the 4x4 grid, meaning that you'll have to choose your moves carefully. Every time you collide two or more tiles, your score increases by their merged value.
Originally an entrant in RGCD's 2014 C64 16KB Cartridge Competition, this final commercial version of the game features further visual improvements and minor bug-fixes (such as same speed music played on PAL and NTSC systems).
---
C-2048 features:
Addictive puzzle action!
Beautiful graphics and hires typography!
An awesome SID soundtrack!
Soft shift technology!
Full PAL & NTSC compatibility!
For further information on the game, please check the press kit.

---
Playing C-2048 on Windows, Mac or Linux
Please note that the downloadable Commodore 64 version available here is primarily for use with emulators, but can also be run on a real C64 via hardware such as the 1541 Ultimate II or Turbo Chameleon. For emulator users, we recommend VICE, as it works on a variety of operating systems and is very user friendly. In fact, we've even included a pre-configured Windows, Mac and Linux version of the emulator with the download as well as some simple user instructions (we're nice like that).
---
Buy C-2048 on Cartridge for your Commodore 64 Computer!
Enjoyed C-2048 on your modern-day PC? Have an old Commodore 64 stashed away in the loft? Well, you'd be a fool not to grab a physical copy of the C64 version - it comes boxed with vinyl stickers and even a postcard, just like in the good old days!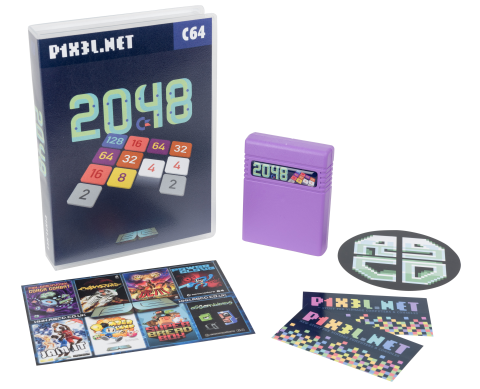 Head on over to our online store to order your copy today :)

Install instructions
C64 Compatibility Notes
C-2048 has been tested on both PAL and NTSC machines, and works on the C64, C128 and GS. C-2048 has NTSC support, and the music plays at the same speed as on PAL systems.

VICE Emulator Notes
As mentioned above, we've thoughtfully packaged the game download with VICE for Windows, Mac and Linux.
To start the game within the emulator, simply unzip the archive and hit that RUN ME file.
Joystick in port two has been mapped to the cursor keys and left-control (ctrl).
To pause the game, press FIRE.
To toggle music on/off, press M.
To toggle greyscale/colour modes, press B.
To toggle full screen, press ALT and ENTER together.
For full instructions on using VICE, read the docs supplied in the VICE directory.
For more info, read the provided READ ME 1ST.TXT and HELP.TXT files :)